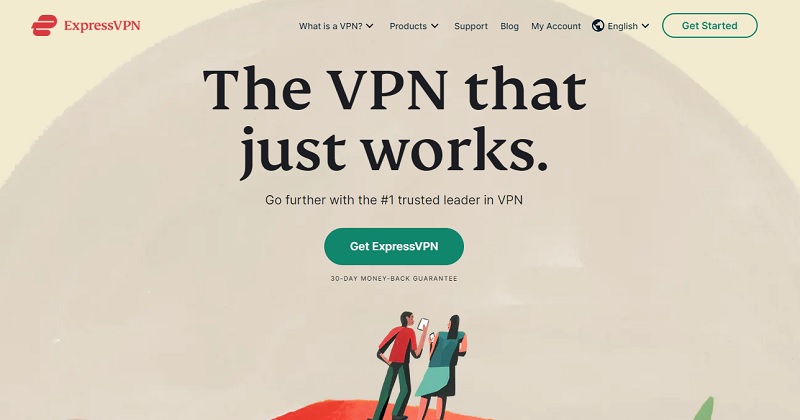 ExpressVPN is one of the best labels in VPN providers. If it were a brandy it would be a Cognac. However that smooth and fine service, much like the cognac, comes with a price tag that matches its flavor.
While it is renowned for stability and performance under many circumstances, there are a few downsides to that as well. Ultimately, this means that at the end of the day, ExpressVPN seems to be selling more on reputation than on real quality.
How far that's true will depend on you to decide. After you read this ExpressVPN review, of course. I promise I'll pull it apart piece by piece for complete honesty.
ExpressVPN Overview
Let's start off with the basic about ExpressVPN:
| | |
| --- | --- |
| Based in | British Virgin Islands |
| Year Founded | 2009 |
| Platform Support | Android, iOS, macOS, Windows, Linux, Apple TV, Fire TV, Playstation, Xbox, Nintendo Switch, and a shitload of other smart devices |
| Browser Extensions | Chrome, Firefox |
| Number of Servers | 1,700+ |
| Works in China | Um, Not Really |
| Price | From $8.32/mo |
| Website | https://www.expressvpn.com |
What I Like About ExpressVPN
1. Ideal Privacy and Security
The very tempered development of ExpressVPN has led to it having a reputation second to none when it comes to privacy and security. Although founded more than a decade ago, it has managed to steer clear of security breaches and controversies.
Many VPNs have been caught out over time and had their names dragged through the mud, but not with ExpressVPN. It hasn't had a single negative incident so far – so let's hope it carries on that way.
Meanwhile, from a bird's eye point of view, there are a number of exceptional points ExpressVPN has in its favor. One such example is it's use of RAM-only servers, which is ideal since it helps ensure that connection information is never permanently stored even if it's recorded.
ExpressVPN has also had its servers audited by a third party to assure everyone that it really is as secure as it says. And that's what it did proactively, without needing something to fuck up first.
2. Stable Overall Performance
Having personally tested dozens of VPN services, I have to say that there's a good spread when it comes to speed. Some are fantastic, some decent, while others simply suck balls. Surprisingly, ExpressVPN is one that sits in the middle.
While I'm glad it isn't one of those that sucks balls, it is far from the fastest I have seen. Instead, it's beauty lies in the fact that it plods along very steadily no matter what you get it to try and do.
This isn't only applicable to speed but everything the service does. Whatever you are trying to do with it, ExpressVPN simply works without complaints. The feeling is kind of odd and if I had to describe it, I would think of Old Faithful. There for eons and as timely as clockwork.
| Day | Connectivity | Location | Ping | Download | Upload |
| --- | --- | --- | --- | --- | --- |
| 1 | 0% (0/10) | | 0.00 ms | bps | bps |
| 2 | 0% (0/10) | | 0.00 ms | bps | bps |
| 3 | 0% (0/10) | | 0.00 ms | bps | bps |
| 4 | 0% (0/10) | | 0.00 ms | bps | bps |
| 5 | 0% (0/10) | | 0.00 ms | bps | bps |
| 6 | 0% (0/10) | | 0.00 ms | bps | bps |
| 7 | 0% (0/10) | | 0.00 ms | bps | bps |
| 8 | 0% (0/10) | | 0.00 ms | bps | bps |
| 9 | 0% (0/10) | | 0.00 ms | bps | bps |
| 10 | 0% (0/10) | | 0.00 ms | bps | bps |
| 11 | 0% (0/10) | | 0.00 ms | bps | bps |
| 12 | 0% (0/10) | | 0.00 ms | bps | bps |
| 13 | 0% (0/10) | | 0.00 ms | bps | bps |
| 14 | 0% (0/2) | | 0.00 ms | bps | bps |
| Average | 0.00% | | 0.00 ms | bps | bps |
Click here to visit ExpressVPN online
3. Works on All Kinds of Stuff
Seriously, if there's something out there that you can't install and use ExpressVPN on, it probably isn't meant for that. ExpressVPN has probably the broadest compatibility range I've ever seen.
Most VPNs will work with mainstream platforms like Windows, Linux, or MacOS. ExpressVPN goes the whole hog and includes tons of smart devices including Android TV and such. In fact, you can even run it on some gaming platforms like the PlayStation.
4. Choose What You Want to Secure
Instead of selling you a service and telling you to like it or lump it, ExpressVPN still keeps choice in your hands. This means that you can choose what you want to pass through the VPNs service or not.
This can be a two edged sword though. If you don't know what you're doing and try to let it bypass the VPN just to get it to work, you might end up compromising your own security. The thing is though – it's still your choice. Just make the right choices.
Thankfully, ExpressVPN also provides a split tunneling guide to help prevent you from doing stupid things.
What I Dislike About ExpressVPN
1. China Service Has Been a Flop
The one weakness of ExpressVPN is when it comes to China. Judging from our VPN tests from within the country, ExpressVPN seems to have given up completely. It's simply unusable and we haven't had much success even making a connection most of the days.
It works fine everywhere else, just not from inside of China. Kind of defeats the whole purpose of it being on our list, but we have faith in them (I think).
Alternatively, check out SurfShark – it works like a charm both inside and outside of China and offers a big discount for new users at the moment. See SurfShark connectivity test review here.
2. The Price is Horrendous
I think ExpressVPN has one of the most horrible prices around. While single month subscriptions hover at around the industry norm, it discounts longer subscriptions at a measly rate. You still need to pay $8.32/mo.
If you compare that to Surfshark (as an example), they're worlds apart. Offering a premium service is one thing, but offering it at premium prices is such a thing of the past. I guess somebody had to pay the price of those audits, huh?
3. Slower to Try New Technology
So far the company has been relatively slow to introduce new stuff to its users. For example, it's stayed clear of Wireguard for the moment. While this relatively new protocol has shown incredible promise, it is undeniably new.
This 'better safe than sorry' attitude means extra security for ExpressVPN. Unfortunately for us, we're paying lots of money for it to do this. Meanwhile, the competitors speed by and we're left sucking on our thumbs. The feeling isn't awesome.
The Final 2-Cents
If you need a VPN that works in China right now, steer clear of ExpressVPN for the moment. If that's only part of your ever-evolving life then you can consider it for everything else. Remember, just because a VPN works or doesn't work in China right now – things will change.
The Great Firewall is constantly evolving and so is our test data. Make sure you check our site for the most recent results before you pay for that subscription.