Affordable VPN to Climb the Great Firewall of China
If I could serenade a VPN, Surfshark is the one I'd sing to. Of course, that wouldn't do anything, but it sure as shit sounded good in my head. It's my way of telling you guys how much I love this VPN.
VPNs are all about privacy and security and they need to really have their stuff together to pull it off. That means a massive injection of money to maintain both the hardware and software we need to use it.
At the same time, it also has to make things affordable right? I'm not paying more than the price of a fucking cup of coffee for something to keep me safe. Well, at least that's what the Uighurs must have thought before they got slammed into detention camps.
However, I digress. Today we're looking at Surfshark, a relative newcomer to the VPN scene. 
SurfShark Overview
What I Like About Surfshark VPN
1. Growing Like a Sprout
Surfshark first came about in late 2018, a young upstart (smacks it with my cane) seeking to challenge the market share of dominant brands. When bright, shiny, and new, it offered access to just a few hundred servers. 
Fast forward to today and the brand has more than doubled its server strength. It's also introduced an increasing number of features that further underlines its growth. It's a healthy growing kid if I ever saw one.
2. Offers Affordable Competence
I knew that many teething issues typically followed new brands. So as they grew I kept my evil eye closely tuned to how they performed.
Impressively, over the past year they haven't fucked up yet.
This is one of the things that I really hate about some brands. They start off well and then screw everything up. But not Surfshark, they've been good as gold all the way. Even though they've bumped up the price a little recently (Surfshark now costs from $2.49/mo), I have to say it's still a bargain.
Of course, that's weighing what they have to offer. You'll find cheaper in the market, don't get me wrong. SurfShark though, have seemed to hit that perfect sweet spot where awesome performance meets reasonable pricing.
3. Can Climb the Great Firewall of China
If you're not aware by now, China really hates the fuck out of VPNs.
They help people regain their digital freedom, which is kind of a big no-no in the country. If you only have one political party, you tend to get a bit paranoid.
Think of Donald Trump on steroids.
That's why they went ahead and built the Great Firewall of China, to block anyone from accessing stuff the party thinks isn't good for you. Unlike many other VPNs, so far SurfShark hasn't really failed at climbing this particular wall yet.
ChinaVPN's automated system tests VPNs from WITHIN the country to see if they can help people circumvent the firewall. Over the past month, Surfshark has managed to create usable connections almost completely without fail (see data table below).
SurfShark Connectivity and Speed Tests In China
| Day | Connectivity | Location | Ping | Download | Upload |
| --- | --- | --- | --- | --- | --- |
| 1 | 100% (10/10) | Bordeaux, FR | 238.00 ms | 120.00 Mbpsps | 7.20 Mbpsps |
| 2 | 100% (10/10) | Ljubljana, SI | 236.00 ms | 2.30 Mbpsps | 18.00 Mbpsps |
| 3 | 100% (10/10) | Oslo, NO | 285.00 ms | 56.00 Kbpsps | 13.00 Mbpsps |
| 4 | 100% (10/10) | São Paulo, BR | 664.00 ms | 68.00 Mbpsps | 8.60 Mbpsps |
| 5 | 90% (9/10) | Tirana, AL | 355.00 ms | 27.00 Mbpsps | 5.20 Mbpsps |
| 6 | 100% (10/10) | Tirana, AL | 351.00 ms | 45.00 Mbpsps | 4.40 Mbpsps |
| 7 | 100% (10/10) | London, GB | 240.00 ms | 11.00 Mbpsps | 18.00 Mbpsps |
| 8 | 100% (10/10) | San José, CR | 340.00 ms | 6.70 Mbpsps | 2.80 Mbpsps |
| 9 | 100% (10/10) | Nicosia, CY | 632.00 ms | 61.00 Mbpsps | 11.00 Mbpsps |
| 10 | 90% (9/10) | San José, CR | 351.00 ms | 11.00 Mbpsps | 7.10 Mbpsps |
| 11 | 100% (10/10) | Montreal, CA | 340.00 ms | 89.00 Mbpsps | 12.00 Mbpsps |
| 12 | 100% (10/10) | Marseille, FR | 239.00 ms | 120.00 Mbpsps | 13.00 Mbpsps |
| 13 | 100% (10/10) | LV | 247.00 ms | 25.00 Mbpsps | 12.00 Mbpsps |
| 14 | 100% (3/3) | Tirana, AL | 356.00 ms | 100.00 Mbpsps | 5.20 Mbpsps |
| Average | 98.57% | | 271.50 ms | 57.10 Mbpsps | 15.11 Mbpsps |
Disclaimer: Since the Great Firewall is being constantly updated, the capabilities of individual VPNs may change. Always refer to our test data for the most recently test results for any service you may be interested in. If you do not, don't come crying to us!
4. Superb Privacy and Security Features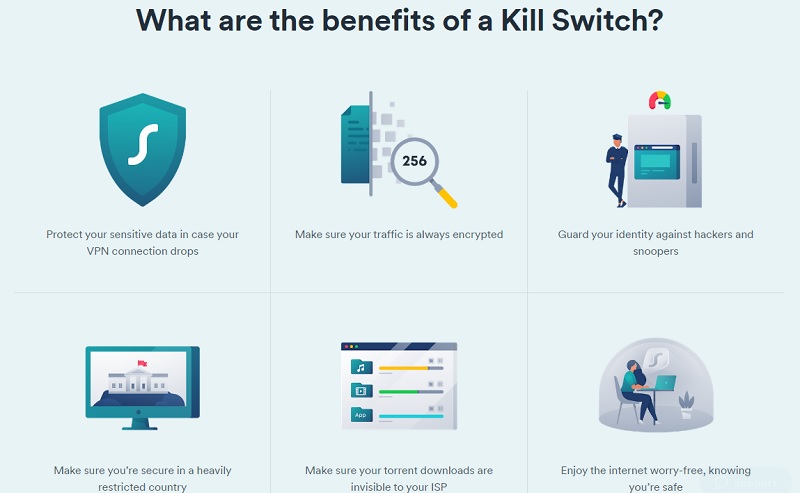 Backed by the usual 256-bit AES encryption, kill switch, support for reputable protocols, and other associated doo-dads, Surfshark has so far also been reliable. I've run the typical leak tests and done the burn-ins with no problems so far.
If it wasn't for the fact that most corporates have their own VPNs, I'd say this one could be a drop-in replacement. Of course, that makes it ideal for you if you're running a small business and don't have your own VPN yet.
5. Easy as Heck to Use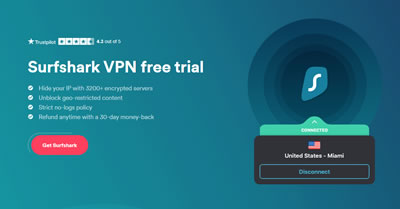 New to VPN?
Don't worry – SurfShark offers 30 days free trial to all new users.
Building on that last comment of mine above, if tech isn't your thing and you know shit about VPNs, don't worry. Surfshark runs pretty much out of the box. All you need to do is to install it and set it to run automatically. 
If you can't do this, get their support staff to teach you how. Once it's set up to run by itself, you pretty much never have to fuck aroudn with it ever again. Of course if you learn a little, magic then happens – you can change servers, for example.
6. Hopping on With Next-gen Technology
Perhaps one of the things I find hottest about Surfshark is that they're constantly looking towards the next big thing in technology. Honestly, so many companies today are treating tech like pussies – they won't move until forced to.
Surfshark on the other hand is running onwards it as fast as they can. You can plainly see this in their quick adoption of WireGuard technology – that's boosted their speeds to eyebrow-raising standards.
Aside from that, you have RAM-only servers now, keeping your data even safer than ever. Not many others are willing to go that far. And you know what? It all fucking works like a charm.
Learn more about SurfShark's features
What I Dislike About Surfshark
1. Price Have Increased
Although I've said that Surfshark is really affordable for a premium VPN, they really have added a few cents to their prices. While it's still reasonable, I will take any chance to bitch about pricing whenever I can. Which self-respecting buyer won't?
And to make it clear – I actually buy all of my VPN subscriptions. If any are sponsored, I will make sure I tell you guys very loudly.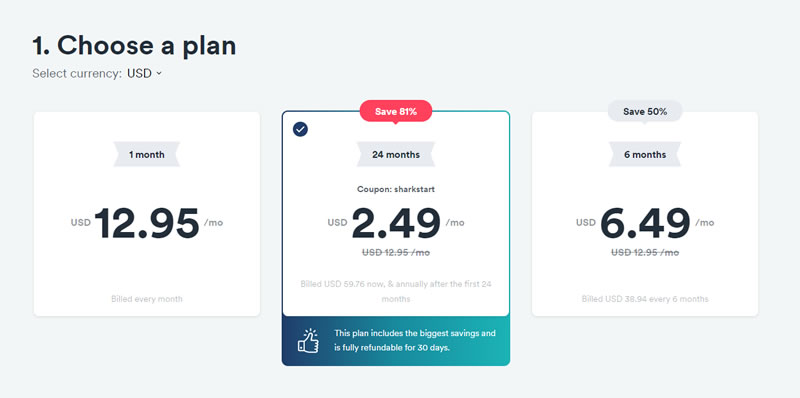 The Final 2-Cents
Even as I have just finished bitching about Surfshark, I still find myself smiling surreptitiously as I type. Yes, I can fool the world, but I can't fool myself. My love for this VPN service has deepened over the past year and its price does suit my wallet.
From what I hear, we've also been promised an impending update that will finally bring WireGuard into the service. At that point, I will have no alternative but to think of something else to bitch about.
Meanwhile, I'm still happy as a clam and highly recommending this VPN – wherever in the world you're planning to use it from.